 We are trying to get free, y'all – and everybody is invited. At Feminist Center we provide healthcare and we are building an inclusive movement for all led by Black women, and women of color. Reproductive Justice and our Feminist approach to abortion care shaped our work in 2019 and 2020.

The past two years have been tumultuous to say the least. In both 2019 and 2020, I can say unequivocally that I could not be prouder of the organization we are becoming or of the movement we are building, in the face of uncertainty and unrelenting opposition. We remain undaunted, we stay radical, and we keep imagining how it could all be different, in spite of the barriers erected around us.
We are unapologetically a Black woman led, independent, non-profit, multi-generational, multi-racial reproductive health, rights, and justice organization committed to a vision of accessible and judgment-free reproductive health care and access in the South for all who need it. And we will not shy away from the tough conversations and reckoning that are necessary for us to more fully live into our values and become the organization that our community needs us to be.
02 | Highlights & Overview
Healthcare Services Highlights
Sexual Health and Wellness Patients (including THI services)
Sexual Health and Wellness Patients (including THI services)

LLVI listened to the needs of our core team of lead promotoras in 2020 and raised over $20,000 in emergency aid support for families affected by the COVID-19 crisis.
Joined Sistersong Women of Color  Reproductive Justice Collective, Planned Parenthood Southeast, ACLU of Georgia, and the Center for Reproductive Rights to challenge, fight, enjoin, & eventually defeat 6-week abortion ban HB 481.
Successfully advocated for 5 bills protecting families, parents, women and low income folks in Georgia in 2020.

We are proud of being able to serve every single person who walked through our doors in 2020.  Despite the need for spacing out work stations and appointment times, adding additional sanitation practices, and the need for in-clinic social distancing at every step of care--we were open for our community every single week of 2020. Our goal was to ensure we ourselves were healthy, rested and equipped to work safely as a team.  We did our best to provide compassionate abortion care safely to as many of our patients as was possible. We were also able to maintain 75% of our abortion patient volume in 2020 despite adjusted Covid-19 protocols.

Featured in over 30 national and international publications: As abortion bans swept the country in 2019 we had a chance to join the conversation in a new way. We were able to highlight our organizing work alongside our Reproductive Justice coalition partners and represent Atlanta and Southern reproductive justice voices.  This was an opportunity for us to contribute to the local, national and international conversation on abortion access and reproductive justice by centering Black and Brown leaders and speaking in our own voices while discussing reproductive health and rights.
increase in foundational support in 2020
This digital reach raised our profile and translated into:
Increased media interest from national and international publications like

the New York Times, Time, the Washington Post, Al Jazeera and more

;

The largest number of digital fundraisers organized on behalf of our center with over $365,000 received in donations from individuals across the country;

An influx of dedicated volunteers and supporters with 250 volunteer applications and over 70 committed clinic escorts.

2019 and 2020 presented significant challenges to Feminist Women's Health Center particularly with the passage of the 6-week abortion ban HB 481 in 2019 and the COVID pandemic in 2020. 
In 2019 conservative lawmakers pushed for anti-abortion legislation across the country and in May a  6-week abortion ban HB 481 was signed into law in Georgia. Feminist Women's Health Center joined a challenge to the law as a plaintiff, represented by the Center for Reproductive Rights, alongside lead plaintiff Sistersong Women of Color Reproductive Justice Collective, represented by ACLU of Georgia, and Planned Parenthood Southeast, represented by Planned Parenthood Federation of America, and several other clinics and providers who opposed the law. Thanks to incredible counsel and the outpouring of support from our donors, supporters, and partners we were able to organize, activate our community, fight the case in the court, and win. Though the case has been appealed by the state, we can definitively say that abortion is still legal in Georgia and we will continue to provide care.
COVID-19 Response: While the battle against HB 481 was still being fought in the courts, we also faced the COVID pandemic and the ensuing quarantine measures in effect in Spring 2020. While the pandemic significantly impacted operations, we were forced to innovate, adapt and evolve. As a reproductive healthcare provider working through a Reproductive Justice lens, we also had to be continuing to safely provide care to our patients while also prioritizing the health and safety of our staff and community. We moved quickly to put protocols in place to keep our staff and patients as safe as possible while causing as few interruptions to clinic services as possible. Our center has since been adapting to follow the latest guidance from the Center for Disease Control, and the National Abortion Federation. Through a combination of measures including staggering appointments, adjusting operations and intake protocols, scaling back non-essential and elective services, our center was able to continue providing essential care to our patients.
Continued care and updates:
2019
Total Patients: 5,089
2020
Total Patients: 3,050
What our patients said about us:
"La verdad el mejor lugar al que pueden ir para cualquier proceso de aborto etc,la atención espectacular, la limpieza,en fin sinceramente muy agradecida y aconsejo el lugar 100%!!! Muchas gracias a todos los trabajadores."
My procedure could not have been better. The staff are friendly, accommodating, empathetic, and understanding. They made me feel safe, even with all the hateful people outside. Feminist is a valuable resource for the community, and I hope that they're here to stay."
"Professional and wonderful staff. Made a girl feel like she wasn't alone in this world during one of the most vulnerable times of my life.
I can't thank them enough."
Much of our work in 2019 was characterized by our intentional coalition and cross-movement work. Throughout the year, we worked diligently to expand our geographic and demographic reach by working closely with our Georgia Reproductive Health, Rights, and Justice Coalition partners, fighting against HB 481 and making clear that reproductive justice is a framework that addresses all of our issues. From racial justice, LGBTQ justice, and economic justice to criminalization, and maternal mortality; we educated our bases and highlighted key legislation touching issues such as shackling, pregnancy medicaid, and more. In more ways than one, 2019 was a transformative year; both for our organization and our relationships with partners and supporters. We carried this transformative energy with us into 2020 and grew our team to include myself, the Director of Community Engagement, a new Community Outreach Manager, Lifting Latinx Voices Initiative (LLVI) Coordinator, and Grassroots Organizing Coordinator. Our new team members bring with them a diversity of knowledges, experiences, and skills that reflect our broad vision for reproductive justice.
From March 2020 onward, two pandemics  — COVID-19 and white supremacy (the former novel and the other centuries old) — complicated our approach to community engagement, education, and advocacy work. As reproductive justice practitioners, intersectionality is the analytic tool that informs our understanding of the issues and their connection to systems of oppression. Turning again to our RJ coalition, we co-hosted community events illuminating both the gendered and racialized impact of COVID-19, as well as the physical, social-emotional, and material impacts of anti-Black police terrorism and its reverberations within our  communities. We held virtual sessions on mental/emotional wellness, self-managed abortions, and abortion lesgilation education; took seriously our communities' need for mutual aid and launched a COVID-19 emergency response fund to support our Promotoras; and, continued to fight for our communities and hold our legislators accountable to their constituents.
As we near the end of what was certainly a tumultuous year, I reflect on the utility of anger as explicated by Audre Lorde in her 1981 NWSA keynote address, "…anger expressed and translated into action in the service of our vision and our future is a liberating and strengthening act of clarification." We will carry Lorde's important meditation with us in 2021 where we will continue to grow our knowledge and expertise, deepen our relationships, and build clearer connections between the fight for reproductive, economic, gender, racial and immigrant justice through our steadfast commitment to community engagement.
— Jalessah Jackson, Director of Community Engagement
 1 Lorde, Audre. "The Uses of Anger." National Women's Studies Association Keynote Address. 1981.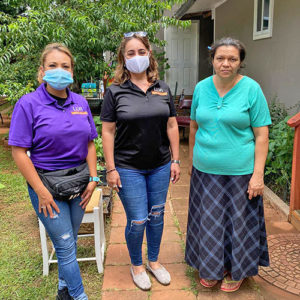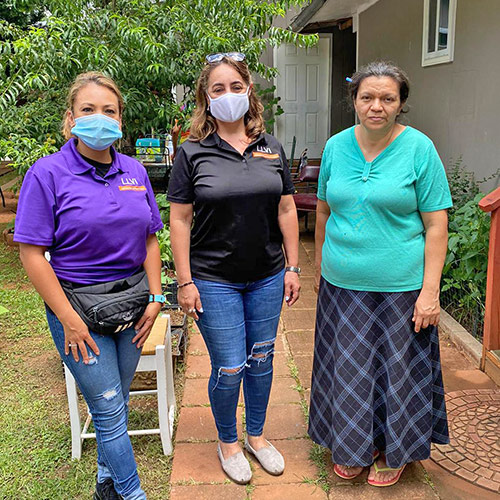 Lifting Latinx Voices Initiative/
Levantando Las Voces Latinx (LLVI)
LLVI received the

program's largest funding to date

, a total of

$24,000

utilized to support the direct service needs of the community.

Providing on-going direct-service support to over 25 households.

Because our leadership development efforts moved digitally we were able to grow our core promotora team and current promotoras invited their friends and neighbors to join.
Activated the community in the fight against HB 481:

In 2019, we were successful in organizing and advocating for reproductive rights and justice. Hundreds of advocates at the Capitol, showing up for reproductive justice day after day and speaking out about their personal experiences, made clear to legislators that we are a force to be reckoned with.

HB 481 was struck down as unconstitutional in July 2020

after a hard fought battle on the ground and in the court.

The momentum of 2019 continued into 2020 with the passage of multiple bills  for protecting families, parents, women and low-income folks. We worked closely with many local coalitions and partner organizations on these bills. 
Civic Engagement and Organizing
In 2019 we registered 100 voters

: Femininst Center received an award for having the highest completion rate of voter registration forms at the

Pro-Georgia table

.

In 2020,  we provided mutual aid support to over 100 people

in Westside Atlanta during the height of the COVID-19 crisis and the Black Lives Matter protests. 
In 2019, we had over 250 volunteer applicants, 65 clinic escorts and reached nearly 200 people through community events and volunteer activities.

In 2020, we pivoted our outreach activities to be virtual and in alignment with the changing needs of the community. We had 14 fellows graduate from our first virtual Vuley Fellows cohort. 

"Being on the FWHC board allows us to be a part of an organization that embodies the principles of Reproductive Justice in its practice."
Alla Raykin Esq.
(She/Her)
Associate, Eversheds Sutherland
Board Chair
Aarti Sharma Esq. 
(She/Her)
Vice President New School Development, Georgia Charter Schools Association
Board Director
Jen D. Rafanan 
(She/Her)
Owner/Founder, JDR-Creative
Board Director
Langston Walker 
(He/Him)
Board Vice Chair
Bill Polk 
(He/Him)
Board Director
Dabney P. Evans PhD, MPH 
(She/Her)
Associate Professor, Rollins School of Public Health-Emory University
Board Director
Lillie Madali 
(She/Her)
IT Director, City of Atlanta
Board Secretary
Brett Bradshaw FNP 
(She/Her)
Nurse Practitioner
Board Director
Zach Nikonovich-Kahn 
(He/Him)
Board Director
Cherry Wongtrakool MD. 
(She/Her)
Board Treasurer
Jamila Young JD, LLM 
(She/Her)
President, Kennesaw State University Black Alumni Society
Board Director
Luisa F. Cardona J.D. 
(She/Her)
Deputy Director, Welcoming Atlanta
Board Director
SonAh Yun 
(She/Her)
Board Member
Gilda (GiGi) Pedraza
(She/Her)
Board Member
Executive Director, Latino Community Fund
06 | Fundraising and Financials
2019 gave the rest of the country a glimpse of what Georgia organizers are capable of and confirmed how much more powerful we are together than alone.  Because of our donors, champions and foundation partners we were able to continue to provide compassionate abortion care and truly strengthen our movement work with the most marginalized voices at the center. In 2019 many people learned about our work for the first time and immediately jumped at the chance to make a donation and every single donation we received in 2019 was especially meaningful.  Then in 2020, facing the pandemic, our foundation partners stepped up to make sure we had the resources we needed to support our staff and stay open to serve our patients.  During two years of trials and challenges we could have never predicted, the steady stream of support has enabled us to continue on our steady path of increased financial health and effective movement building.